Tunes of the day:
morning session – improvisation John McGann (Berklee)
What was covered:
Metronome practice fundamentals. Also learned a specific scale for improvising over Dark Eyes. John prefers (and advocates) mid-tempo playing over fast, because breathing space makes for more inventiveness, less reliance on licks and clichés.
Lessons learned:
Do "caveman" single-fingered arpeggios, with a single string finger. breaks away from dependency of scale fingering.
Good "on your feet" exercise for practice: trade eights with yourself, switching from chord to melody.
Writing down/recording three different melodic ideas for a chord progression will slowly build the skill-set of inventing melodies, to break away from rote approaches.
A scalar approach is more appropriate for, with reference to chord tones Dark Eyes, while less useful for Swing '39.
Who's a better soloist? Someone who displays technical mastery, or someone who keeps the audience on the "qui-vive", "l'expectative". In other words, a soloist who invites audience participation.
Early afternoon session – advanced rhythm workshop Michael Horowitz (Seattle, WA)
What was covered:
Explored the many possible variations of basic transitions and turnarounds in gypsy jazz chord progressions. Examples: Major and Minor V-I changes, IV-iv-I and V-bII deceptive cadences, chord enclosures, line clichés and the use of "thumb pedals". For more details, see Michael's book, Gypsy Rhythm.
What differentiates Michael from the other teachers, is that he has handouts 😉
Lessons learned:
Why the "1000 chord book" approach is wrong: harmonic knowledge and chord vocabulary is to be built from the "ground up", from real musical situations, such as transitions between dominant and root chords, turn-arounds, etc.
Variety is the spice of life: use of line clichés, "deceptive cadences" (i.e. surprise end-chords).
Gyspy jazzer's sometimes make use of pedal tones in rhythm playing.
Late afternoon eclectic offerings session – Vladimir Mollov motif development, part II
(Methinks I didn't take any pictures during Vlado's workshops because I was having too much fun!)
What was covered:
part II of motif development workshop (see part I for details)

Smith College Goes Barbecue
After the days' sessions, we're always rather hungry. Tonight, the Smith College cafeteria people graciously offer dinner outdoors. The weather is splendid, and we've got full-on buffet options on the menu. These people are so terrific that even our instruments are invited for dinner, as this picture will attest:
Concert Time!
Straight from the banquet to church! To Helen Hills Hills Chapel (yes, two Hills for Helen) for the first Django In June Concert. Featured tonight is the Stéphane Wrembel Trio, with special guest Biel Ballester Biel Ballester from Barcelona.
For the unitiated, Stéphane is a rising star of the US Gypsy Jazz scene… and beyond. That said, it's a little difficult to describe what Stéphane does, as he's not a traditionalist in any sense of the word. For the sake of brevity, I'll characterize his music – if I can avoid being punched by Stéphane – as Gadjo Grunge.
Fox News, I own a copyright on that term…
For reference, I've adding a clip of the Stéphane Wrembel Trio's performance LAST YEAR at Django In June 2006. As soon as someone spots an embeddable video excerpt of this year's performance, please let me know, and I'll replace this clip with the new one.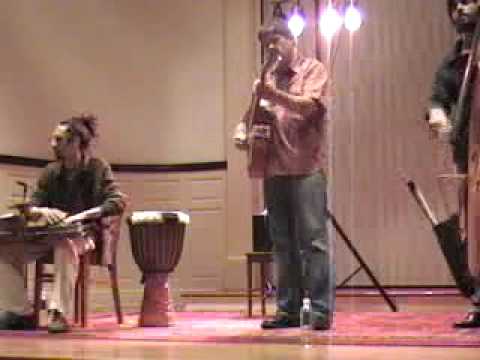 For the main set, the Trio was joined by the amazing Biel Ballester from Barcelona. Biel, who accepted the Django In June gig with only one week head time was quite the melodic and brooding counterpoint to Stéphane's stratospheric sonic stretching.
More jams!!
After the storm, you have… further breakneck tempo jam experiments! Back at Franklin King House, it's Sweet Georgia Brown looped for 632 choruses at 230 BPM until 2am, for God's sake… Even a hostile lawn sprinkler system couldn't stop these guys.